Patio Decking Bristol

We is your key to unlocking the beauty of your garedn patio area
Between a deck and a patio, what's the difference? Building your deck is an outdoor fun as you get to see that there's more to outside than just staring that piece of land beside your home. If you have extra space which you could convert into a patio, might as well choose a patio decking!
Call Us Today On
080 555 444 222
Patios, Paths and Garden Decks

As a patio is built directly on the ground, with stones, rocks, sand, gravel, and cement that completes the flooring compound, decking is built using timber as foundation and fortified with cement. A frame is built, still using wood, clamped and nailed all together to serve as a base for the deck. Then, planks of wood are placed side by side to build the floor. Literally, all decks are raised from the ground, because they leave a hollow space underneath.
If you asked the average person on the street that question, would they be able to answer? Most likely, some people would be able to come up with a reasonable explanation for a deck: that it's this 'thing' outdoors made of wood that you walk or sit on.
Patio decking is just one of the fantastic projects Bristol Decking offers. It is a great addition to have it in your lawn. The aesthetic appeal of a patio deck that serves as your barbecue nook and a few seats for your guests and loved ones to enjoy brings a true joy all year round. Decking serves many purposes. But to be able to keep an attractive and comfortable-looking deck, the choice of wood should be properly selected.
Each type of decking done by Bristol is unique in itself. A patio decking is another type of decking that conforms to the suitability of your area and the compatibility of timber you use. For the best type of timber material, it is wise to consult our builders and have them assess certain factors because every type of wood has its distinct quality.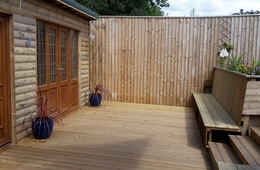 Fill in the Contact Form or Call us Right Now….