Decking Bristol Pro
– WE BUILD DECKS!

– ALL TYPES OF DECKING PROVIDED

– HIGHLY EXPERIENCED BUILDERS

Special Discount on Quality Materials

Timber│Garden│Patio│Composite│Non-Slip
Call Today –
0117 290 0406
Complete Form To Check Eligibility
Decking Bristol Installation Company

Browse Through Our Quality Timber for Your Garden Decks, Fence, Sheds, and More!

Decking Bristol is a team of experienced decking and fencing fitters who can provide your home with aesthetically fitting designs. Our decking contractors in Bristol will waste no time in getting your garden or patio decking looking just how you want it in time for some great outdoor use!
Do you want to convert your property as one of the head-turners in Bristol? If you are eager in improving your home by converting your yard or lawn as a creative masterpiece, you have come to the right place!
Bristol Decking and Fencing is a state-of-the-art deck and fencing solution intended for homeowners who want the best for their yard. We provide all related transformation in patio paving, composite decking, garden sheds, pathway, or anything you may have in mind!
We have a wide variety of options for boards, fence materials, timber quality, fencing posts, patio paving for a reasonable price but top-of-the-line services.
When you browse through our decking and fencing designs, you can price at your range. We encourage you to view our posts so you may add them to your wishlist soon.
We inspect, assess, deliver, and install decks and fence based on your preference and on industry's standards thought about by the best thinkers in the field of architecture and design around Bristol and the surrounding areas in the UK.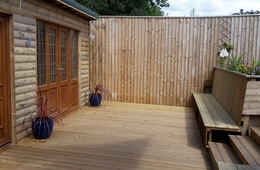 "A Reliable Decking Bristol Builder"
Our Customers Recommend Us…..
Materials
Bristol Decking and its team of craftspeople don't rely on using poor materials, because doing so will serve as bad reviews when their work's integrity is tainted with compromised quality. We build decks and shed of prime timber quality for a price you can't resist.
Workmanship
At all costs, Bristol Decking's approach to workmanship is unparalleled in terms of commitment, loyalty to craft, respect to clients, and value to self. We aim to be competitive in all aspects of our work because even if we haven't exceeded our own expectations, we know we have fulfilled your satisfaction as the investor of any decking project with us. We value that you chose us to handle your project and that you believe in our capability to deliver to your expectation.
Price
We commit to a price that is reasonable and competitive, we match our service to your trust, and we don't offer prices above the ceiling and which that do not equate with the performance of a substandard provider and seller. What's more exciting and intriguing is that we offer 100% no obligation on your part when you request a quote.
Our team is quick to respond when you want to know more about our products, services, and the corresponding price. 
Know More About Us
At Bristol Decking, we welcome you to discover our company which only offers creative designing when it comes to your decking solutions. We have established an organised and professional build system that leaves you an amazing finish for just what you're asking for.
Our home improvement is one of the best in the industry because we haven't heard anything from our valued customer that would stop us from what we are doing. In turn, we complement our dedication by giving the best improvement for your patio, or garden. Or if you have a swimming pool in your backyard that you want to lavish with a pool decking where you can witness all the amenities of a comfortable, yet luxurious life, it is us whom you can depend on.
Bristol Fencing services ensures the protection and home appeal that will amplify both beauty and security. We only build fences made of reliable materials and choices of styles you can pick.
Deck Builders in Bristol – Call Us Today!
– We have offers available for winter decking installs –
Speak to our friendly advisors
0117 290 0406
– We have offers available for winter decking installs –
Speak to our friendly advisors
0117 290 0406
Decking Installation Company in Bristol. – The Bristol Decking & Fencing Pro- has released its guidelines for decking installation this month.  The guidelines cover all aspects of deck building, from choosing the right type of deck or fencing for your needs, to maintenance and repairs. In addition, we can provide a comprehensive range of building services, from the initial design to the finishing touches.
Serving All Suburbs Surrounding Areas of Bristol
Ashley
Avonmouth
Bedminster
Bishopston
Bishopsworth
Brislington East
Brislington West
Eastville
Filwood
Frome Vale
Hartcliffe
Henbury
Hengrove
Henleaze
Lockleaze
Redland
Southmead
Southville
St George East
St George West
Stockwood
Cabot
Clifton
Clifton East
Cotham
Easton
Stoke Bishop
Westbury on Trym
Hillfields
Horfield
Kingsweston
Knowle
Lawrence Hill
Whitchurch Park
Windmill Hill
Flats 1-3 Oakfield Mansions, Oakfield Grove, Bristol, BS8 2BN
Complete Form To Check Eligibility
Your Satisfaction is Our Mission
Affordable, Reliable, and Friendly

We Are A 5-Star Rated Company

So many questions to be answered when you take the first steps to getting a new deck installed in Bristol.
How do you maintain your decking?
How do You treat the wood?
Will I need to paint my decking every year?
What does decking get installed ontop of?
The answers to these questions is exactly what we are here for – Please call us for some friendly help and recommendations about the right sort of decking for you and all the information you need C

all us today on 0117 290 0406

– https://bristol-decking-fencing-pro.business.site 
We want to build your deck……
Our delivery is exceptional as we value quality and integrity through the work of our skilled fitters. We do not rush on things where we could compromise quality, instead, we take time as we observe what we have agreed so that the results are fascinating.
When it comes to products and services, creating a wonderful piece of art found in your home, as this job is committed to transforming your property to a look that you will cherish for a lifetime.
Call our sales representative for a quick talk, and let us handle the rest.
Building a deck with a solid foundation is the most important part of the job. After all, it's hard to sit down and enjoy the view when you're worried about the deck sliding off the hill! But if you want to build a deck that will last a lifetime you have to make sure that the foundations are strong and stable enough to withstand the extra weight of your deck, the constant movement of the ground under your feet, and the sun, rain and snow that will inevitably have an effect on your deck. The first step in building the foundations of your deck is to hire a decking professional. You can learn all about how to choose a deck builder in our blog. When you hire a professional deck builder they will help you.
Decking is a fantastic way to enhance the look and feel of a garden or outdoor space. By using low maintenance materials and modern designs you can create a decking that blends in with your home and garden, extending your living space outdoors. The core material of any decking is the posts that support the deck. There are a number of different materials that can be used for this, but for the best all round value look to pressure treated timber or cedar.
We Are Ready To Help – Call Us!